5 Toddler Car Activities for a Screen-Free Trip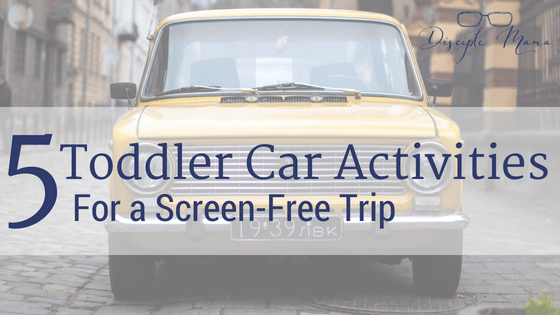 Whether you're traveling for the holidays or taking a summer road trip, you probably dread spending long hours in the car with your toddler. Trust me, I get it. For my family, long car rides happen quite a few times a year, as we live a long way from both sets of grandparents. To make things even more crazy, we practice screen-free parenting, so we have to find other ways to stay sane during road trips. Today I'm sharing 5 great, Disciple Mama-tested toddler car activities to make the journey (almost) as fun as the destination.
And, just so you know, some of the links in this post are affiliate links, which means I might earn a commission if you click and decide to make a purchase. I never recommend products I don't use and love.
---
---

Screen-Free Toddler Car Activities
Doodle Cards
We've actually had them since before E was born, but we just recently discovered the beauty of Travel Doodle Activity Cards from Usborne Books.
You guys, these things are awesome! E can draw on the little activity cards for an hour at a time and not get bored. He can't read the little instructions on each card, but it doesn't really matter. Most of them are fairly self-explanatory, and even if they aren't, he can use his imagination and doodle however he wants.
Note: These activity cards come with a dry erase marker, so this activity is only good for kids you can trust with a marker! I would never dream of giving them to 20-month-old A, but at 3.5, E doesn't intentionally draw on things he shouldn't, so it doesn't worry me to let him have at it with the doodle cards. Also, give your child a tissue or something to erase the cards with as they put them away so that the cards stay clean and reusable!
Read-Along Audio Books
These are genius. They're picture books with a cd in the back that reads the story aloud. We have a couple of read-along audio books that E loves to listen to and 'read' along with (our favorite is The Jesus Storybook Bible Deluxe Edition
), but we borrow most of ours. Check out your local library's selection.
Pro tip: read the book to your child before using the cd, just to get them used to the story and how it matches up with the pages. It'll make it easier for them to follow along on their own, later.
Drawing toys
Drawing is always fun, but a toddler+crayons=disaster in the car. To solve this problem, we keep the Magna Doodle in the van at all times. We also take his Melissa & Doug On the Go Water Wow! Water Reveal Pad: Bible Stories
* with us on all of our trips. These are reusable paint-with-water pictures that are perfect for quiet, mess-free entertainment.
Pro tip: If you use a Water Wow! have a water bottle available to refill the little brush pen.
Music
Everyone knows a road trip needs a soundtrack, so put on your favorite tunes and have a sing-along. We call this "Family Choir," and it's a big hit with cranky infants and toddlers alike. Or, put some quiet music on to facilitate toddler naps. Disciple Mama officially recommends Wee Sing Bible Songs
(FREE from Amazon Music for Amazon Prime members).
Pro tip: give your toddler a cute little bluetooth speaker and pipe the music from your phone. E loves the
My Audio Pet Mini Bluetooth Animal Wireless Speaker
*.It will allow you to have a pleasant conversation with your spouse without shouting over the entirety of "Father Abraham."
In fact, on our most recent road trip (it was just me and the boys) while A was asleep I let E  use his penguin speaker to listen to a playlist I made for him.
What was I doing? Driving along listening quietly to my own audiobook over the van speakers. It was a win for everyone!
Games
Playing games is a great way for the family to interact on long trips, and it will keep your toddler's mind engaged, too! Simple I Spy-type games are fun and help kids learn their colors and shapes. Work with your toddler to spot letters or numbers on signs. (Just remember that your rear-facing kiddos will not see everything that you do). Or, just bring the cards from your favorite toddler-friendly trivia game (Egypt to Canaan is our favorite) and ask questions.
Magnets
Toddlers love magnets, so why not bring them on a trip? E loves his Magna Carry Playbook Activity Set
, but you can use whatever kid-friendly magnets you already have, too. Just find a mini cookie sheet and pop your magnets onto it to create a fun visual and tactile experience. E loves his alphabet magnets, but any set will work! Safety tip: Make sure the magnetic pieces are securely fastened,  and DO NOT give magnets to kids who still put everything in their mouths!

Bon Voyage
I hope these car activities for toddlers help you get on the road with confidence and reach your destination with your sanity intact. If you need more inspiration, check out these 40 activities for a road trip with kids (most of them are screen-free, too). You may still feel like bringing the iPad for backup; I get it. But, keep these toddler car activities on hand and you'll have fun and feel great about minimizing screen-time on the road. Best of all, you'll be making room for a lot of family bonding, which is what summer road trips are all about, right?!
---
If you need further screen-ditching inspiration, read these posts:
SaveSave
SaveSave