10 Best Toys For Preschoolers (Screen-free!)
Toys. If you're a parent, you probably have way too many of them in your home. At my house toys tend to take over the living areas if we let them. That's why I like to be particular about which toys we choose for our boys. So, I've put together a list of the best toys for preschoolers to help you if you're looking to buy toys for your own kids or other special children in your life!
If you're looking to cut down on toys, check out my post on experience gifts for the whole family!
---
Some of the links in this post are affiliate links, which means I may receive a commission if you click through and make a purchase. You can read my full disclosure here. I have only included affiliate links for products I actually use or recommend.
---
As a Christian parent, I'm trying to be intentional about every aspect of parenting, including the toys that my boys play with. Thus, everything on this list of the 10 best toys for preschoolers gets a 'yes' for each of these three questions:
3 questions to ask when choosing the best toys for preschoolers:
Is it screen-free?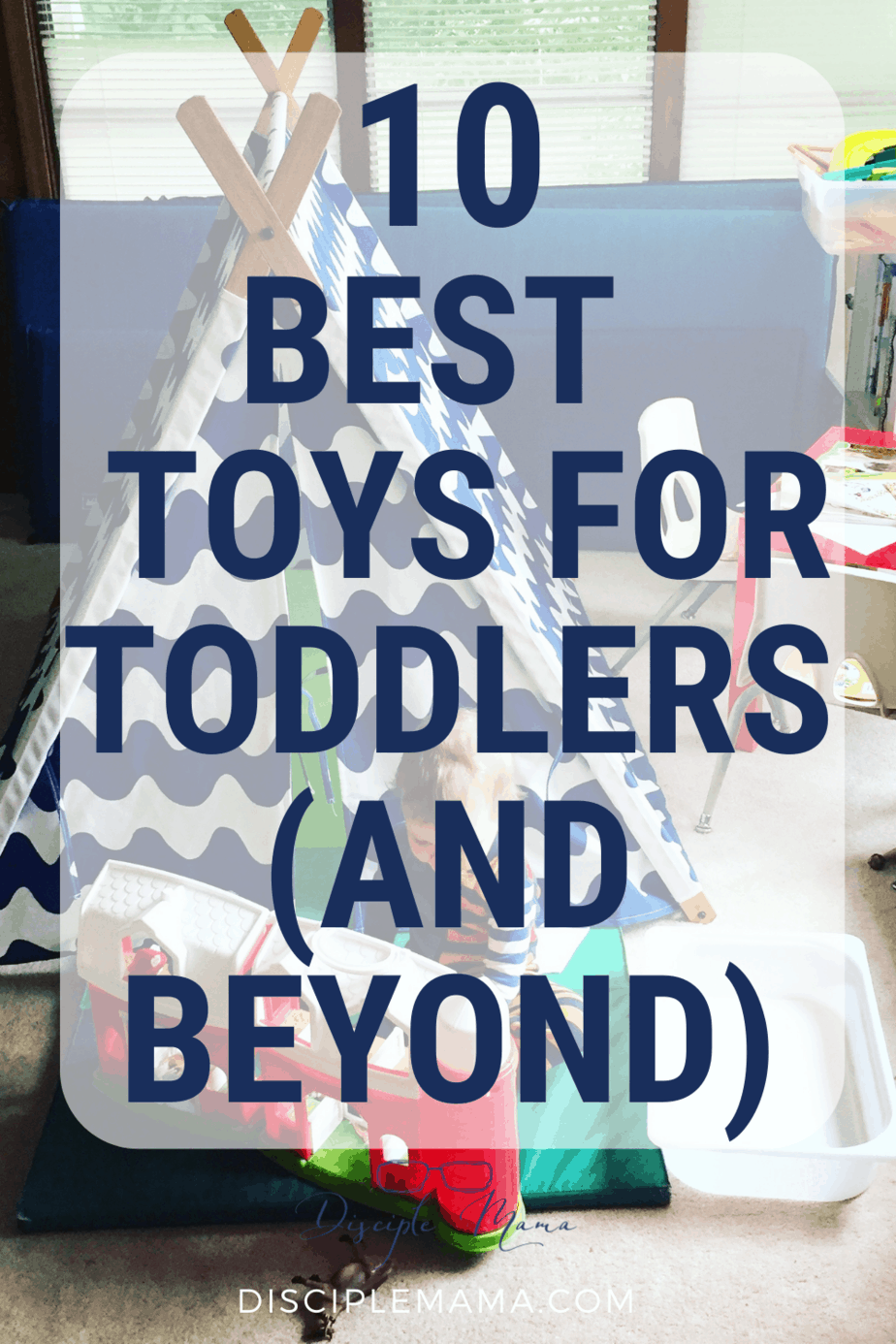 As you know, I practice screen-free parenting and that means every toy on my list will be screen-free. Most of them don't even involve batteries (and I've mentioned the exceptions specifically). Electronic toys can be really great and fun, and we have a few, but I really think that it's better for kids when they can use their imaginations and actively make noises rather than pushing a button and having the noises be made for them.
Also, you won't find any toys that would conflict with the Christian standards we use to raise our kids…no crazy characters and nothing tending toward violence or worldliness.
Is it durable?
#boymom here. My kids are not gentle with their stuff, but I don't think they're any harder on their things than most other children. That means that all of us need toys that are built to last, and that can take some serious wear and tear. After all, I want my kids to love the toys they have, play with them joyfully, and I don't want to spend hard earned cash on things that I'm going to have to continually replace.
I think that Christian stewardship extends to the toys we provide for our kids, so although I didn't leave plastic off this list, I did choose toys that are not simply made of cheap plastics that will break easily. the toys on this can easily be passed on to new kids, resold, or kept for future generations to enjoy.
Will my kids play with it when they're older?
For toys to make it onto my list of the best toys for preschoolers, they have to appeal to older kids as well. It doesn't matter too much if a toy will last for years unless kids want to play with it for years, right? These toys have been tested (very unscientifically and with a limited sample size) on kids of different ages, and I have reasonable suspicions that my preschoolers will still want to play with them for a few years down the road.
10+ Best Toys for Preschoolers
Here's the list of my favorite toys for preschoolers–and updates on how the fun has lasted through the years!
Uncle Goose Blocks
When I was pregnant with our firstborn, my husband and I were strolling aimlessly down a street in Grand Rapids (something we haven't done since then) and, through a storefront window, we spotted the first set of Uncle Goose blocks we'd ever seen. It was a set of Uncle Goose Chinese Blocks
, and my husband (who had been a student missionary in China) wanted them for E. We didn't buy them that day, but we did get them for E's first Christmas, and they're beautiful. Since then, E's added the Uncle Goose Constellation Blocks
set and Uncle Goose Periodic Table Blocks
set to his collection. A's stash is just getting started with the Uncle Goose Spanish Blocks
set. Every one of them is gorgeous, made to last (right here in Michigan!) with non-toxic inks, and educational! Blocks are fantastic because they can be used for creative play, to help develop fine motor skills, and for counting practice (among many other things). Uncle Goose offers blocks for many different languages (Braille, & American Sign Language), some for musical instruments (guitar chord blocks, anyone?), nature (I want the bird blocks!), and even holiday decor sets for your mantle! Every time I do a search for Uncle Goose blocks I find more sets to love. Check them out. I don't think you'll be disappointed. Update: We all still love these blocks, and now my 5 year old enjoys making simple words with them while his brother builds towers.
Matchbox/Hotwheels Cars
Okay, these cars have been around for a long time, and there's nothing super special about them. But, they're fun! My husband and I still have a good time playing with them (sometimes we let the boys play, too), especially if we break out the Hot Wheels Track Builder Straight Track
and set up a nice course in the living room to zoom around on! They're fast, they're fun, they hold up to my two not-so-gentle boys playing with them constantly, bigger kids don't lose face by having fun with them (they're not baby toys, after all), and let's be honest…they're inexpensive. Need I say more?
Update: Fast forward a couple of years and my 3 and 5-year-olds, along with their 9-year-old cousin, both still love these cars, as well as the extra track pieces we've picked up at garage sales.
Duplo Bricks
We have a huge stash of classic Legos waiting for our sons to stop trying to eat everything they play with, but until that day comes (and it could be awhile), LEGO Duplo My First Bricks
are working for us. Duplo bricks come in awesome colors, there are plenty of cool sets available, and they're great for working on the basics of Lego building without the choking hazards. Just be warned, they do still hurt if you step on them.
Update: 2 years later and we've largely transitioned to traditional LEGO bricks, but when I tried to put the Duplo bricks away both boys (3 and 5 years old) protested, and they still get played with a couple of times a week.
Play Kitchen

E's Melissa & Doug Wooden Chef's Pretend Play Toy Kitchen
gets plenty of use every. single. day. He loves cooking us meals, making snacks, "shopping" for groceries (aka filling a paper bag with all of his other toys and unloading it into his play fridge), and everything else you can think of doing in a kitchen. His 7 year old cousin loves playing with the kitchen too, so we think we have awhile before he grows out of it. We love the pots, pans, utensils, and food we bought at Ikea, but honestly E serves us Duplos and Uncle Goose blocks on a regular basis, too. The play kitchen is amazing for imaginary play!
Update: E (5) and A (3) still play restaurant almost daily, they still love to take our orders with  a pad of guest checks, and a couple of sets of play ice cream (we have this one from Melissa and Doug, and this one from Dragon Drew–the boys love both) have upped the quality of the desserts coming out of the play kitchen.
Wooden Train Set
Have you ever been in a kid-friendly store with a train table set up? If you have, you know that toddlers can't resist a good train track! E has loved his Melissa & Doug Deluxe Wooden Railway Train Set (130+ pcs)
 since before his second birthday, and once (this is the truth) we had high school kids over and they broke out the train set and wouldn't go home until they finished using every piece to make the track "perfect." My husband and I have been known to try to wow each other with our feats of track engineering, as well. This has helped us feel confident about the longevity of the toy.
Update: E is now 5 and A is 3 (and husband's age is…well…older), and they all STILL absolutely love playing with the train set (and we have a lot more pieces now, thanks to a thrift store on the west coast from which my husband flew a huge haul of train tracks home in his carryon). It gets pulled out a little less often now, but the train set is still a frequent flyer in our home.
Lincoln Logs
Lincoln Logs aren't great for very young toddlers, because some of the pieces are smaller than you'd want in your baby's mouth, but for two year olds and up (well into the child years and possibly beyond), they are fantastic toys! Great for practicing fine motor skills and creative building, these toys are simple, but versatile.
Update: Full disclosure–We are close to retiring these. My 5 and 3 year olds pull out the Lincoln Logs once a month or less, and I'm almost ready to find them a new home. I'm going to hang on for a few more months to see if they make a comeback, and I'll let you know how it goes!
Little People
The Little People toys have come a long way from where they were when I was growing up, but they are still classics. Little People are fairly diverse and you can get all kinds of sets to go with the people. Our favorite set, though, is the Fisher-Price Little People Noah's Ark
. My kids love playing with the little animals, and it's fun to have props to talk about the story of Noah with the kids. Please note that Little People buses, boats, trucks, and planes all play noises and sing songs, so if you're looking for toys sans batteries, steer clear of those sets. (Noah's Ark doesn't make any noises).
Update: At 5, E definitely isn't playing with these as much A (3 years old) does, but they are still some of A's very favorite toys.
Bouncy Ball
Well, there's not much to say here, but a ball is a cool toy for a kid of any age. For toddlers and preschoolers, I'd stick with soft, bouncy balls. Also, I recommend you come up with an indoor ball policy, even if the policy is "no balls indoors."
Update: At 3 and 5, both of my kids still love to play with balls.
Spinagain Toy
This Fat Brain Toys Kids Spinagain Toy
is super fun. E received it for his first Christmas, and at first all he did was play with the stick. BUT, soon he started really playing with it, and he still loves it. Baby A thinks it's awesome already at 14 months. The best part about this toy is that cleaning it up really just means playing with it one last time! Adults who come to our house often end up playing with it, so in spite of its simplicity, it's pretty popular with all ages.
Update: The Spinagain is finally retired and being relocated to a new loving home this holiday season. At 3 and 5 my kids just don't play with it anymore, but I still highly recommend this toy for the little ones.
Musical Instruments Set
Some of you out there will have an immediate aversion to any toy that makes as much noise as the Melissa & Doug Band-in-a-Box – 10-Piece Musical Instrument Set
. But, if you don't mind, musical instruments are fantastic for teaching kids about rhythm and tone (plus they're just super fun). If you can't take the noise, though, I get it.
Update: These instruments are VERY NOISY! But my kids still love them and I don't really think a day at home has gone by in the past few years that my boys haven't played with them.
Medical Kit
If you're looking for quieter play, I suggest a Fisher-Price Medical Kit
! My son will play check-up for hours on end, if we let him. These sets haven't actually changed too much since the one I had when I was a kid, but they do have a few updates. Kids love these toys! Plus, you can use it to practice for an actual trip to the doctor's office.
Update: The medical kit is getting used less regularly now that my kids are 5 and 3, but it kind of goes in waves–sometimes they use it a lot for a week or two, and then not so much for awhile, and then they get into it again.
That sums up my list of the best toys for preschoolers! And, remember, no matter who you're buying for (or what the special occasion is), your money is going to be so much better spent, and the recipient will be gain much more joy from the gift if you are willing to spend time with them using it! Roll up your sleeves, get down on the floor, and spend some quality time with the giftee and their new gift.
---
You may also enjoy: